Last week, Bain Company, Inc. published its
Global Private Equity Report 2018
. The report focused on answering the question: "In such a frothy environment, how can funds generate the attractive returns their limited partners expect?"
Bain highlighted retail healthcare as a "fragmented, high-margin sector with strong growth characteristics" that "still offers targets at reasonable multiples and many opportunities to unlock substantial value."
​
According to Bain, from 2012 to 2017, the number of M&A deals in retail healthcare increased at a compounded annual rate of 34%. Nevertheless, sectors such as dermatology and dental remain highly fragmented, with the top 10 companies in each sector accounting for less than than 5% of the total market. Provided below is Figure 1.24 from the Bain report: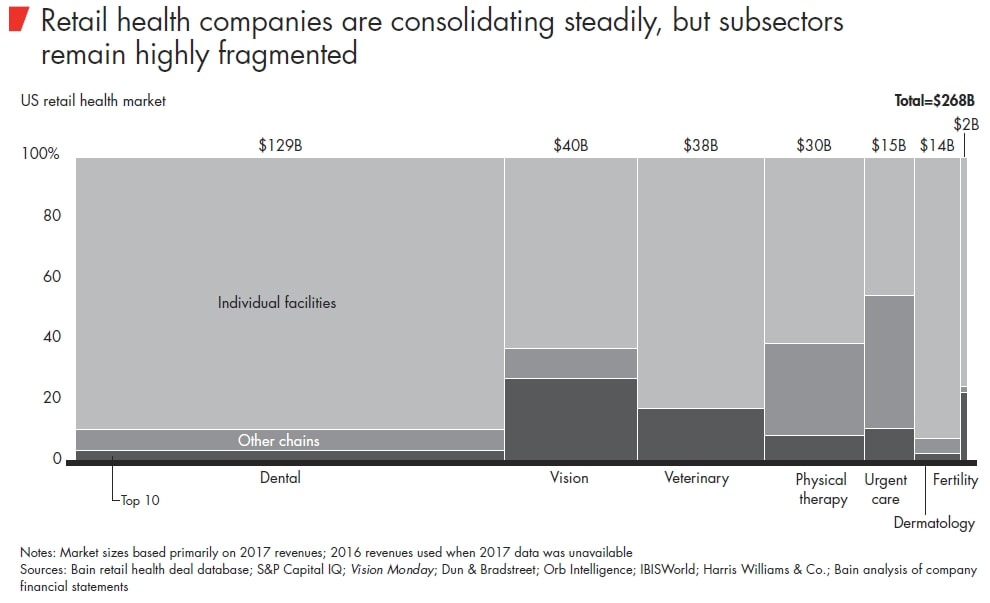 ​​The Bain report also provided a high-level view of how PE funds can build value in the sector. According to Bain's report:
"The best playbooks deploy a combination of retail and healthcare best practices. Retail investors bring expertise in real estate management, site selection, branding and marketing. They use a consumer mindset to home in on target customers and best meet their needs. Healthcare specialists tend to attack the operations side of the business by improving clinical workflow, optimizing billing practices and improving negotiating power with payers and suppliers. The ability to run plays from both directions can be a meaningful advantage in assessing and realizing potential."
Of course, the challenge in executing this value creation strategy is to simultaneously maintain high levels for each of the following:
Financial performance including profitability, stability and growth;
Clinician experience including peer group, work environment, and opportunities for professional growth; and
Patient experience including quality of care and improved outcomes.
To further complicate this balancing act, it must be accomplished within an ever-changing regulatory and reimbursement framework.
The drivers for consolidation are the trend toward value-based medicine, the attractive economics of the retail healthcare sector, the perceived advantages of greater scale, and the immense amount of private equity chasing attractive investment opportunities.
We can debate the extent to which consolidation will occur in physician practice management and other sectors of retail healthcare. We can also debate the implications of consolidation. However, it is no longer worthwhile to debate whether consolidation will occur; it has already arrived and is gaining momentum. In a previous blog post, we noted that
since 2012, more than 20 private equity groups have acquired dermatology practices
.
​Questions or comments? Please leave a reply below or feel free to contact Barry A. Baker at
877.814.4115
.